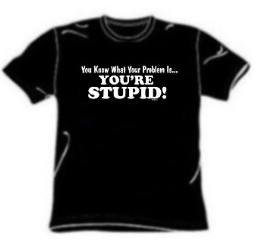 I've gotten some comments that I've held back...more for your comfort than mine, but with the advent of the lawsuit of bloggers 1-10, with me being #1, I thought I'd actually put them in.

Who sent them? Well, Hud has a pre-occupation with certain phrases, and they pretty well single him out. His bible is the WSJ (Wall Street Journal for those of you in Rio Linda), so that gives you a clue.

But, note how he really feels...I don't think this is an act. Several accquantices have mentioned his temper, and Dickie sure demonstrates that birds of a feather....


(Anonymous) 7/17/07
Paris Texas has to be a lovely community. I bet petty bickering and gossip permeates every aspect of community iife in the little god forsaken hamlet. Based on my periodic scanning of this site I conclude that you folks

1. are mad that no one else wanted to pay up for your hospital,

2. Don't like Essent for having done so.

3. Think Essent is only in it for the money and

4. Blah blah blah blah anything else you may want to bitch about depending on when the mood strikes.

I am most intrigued by the "in it for the money" criticism. If I am not mistaken every doctor on staff, every vendor that sells to the hospital, every business owner in town that buys health insurance is in it for the money. Honestly, why should Essent be any different.

The radiology group in that town is known to play things pretty close to the edge when it comes to business dealings and aren't quite set up as a charitable foundation. If you could do better than Essent at running the place then why don't some of you big dick posters stop bitching and moaning and step up to the plate, raise the dough and buy the place? After all, that is what Essent's CEO and other CEOs did to start their companies.

If current management are such idiots, you shouldn't have any trouble selling your turnaround plan to a capital partner. I guess the presentation to raise the money would go something like this: "we need $X million to buy the hospital. Once we own it we will hire 20% more staff, give every one an across the board 20% pay raise, cut prices by 10% and duplicate services at both campuses."

I bet you could raise a bucketful of money. Good luck to you.
(Anonymous) 7/17/07
it is not prmc doing this to TJ, his wife started ... it is not prmc doing this to TJ, his wife started this and his company finished it. holly just did not do things in the right way. to post things on this blog, then ask to not be reported is insane. she made the bed, lay in it

(Anonymous) 7/13/07
frankie boy," this is not an anti essent site it is an alternative to the current business model........ "what business model? you offer nothing. you are just a sick, sorry and disgruntled individual who does nothing, i repeat nothing for the health and well being of the community.do you even know what a business model is?why don't you come out from your hole you call the blog? scared huh?you and the people that support you are just chicken shit....plain and simply. no balls no guts. post this you fool.dick
(Anonymous) 7/17/07
Audit? You freaking idiot don't you think investors in Essent and comparable companies require audit from the same Big Six firms that audit Fortune 500 companies? Of course they do.....my guess is you think someone besides Lee Harvey Oswald shot JFK.....You are the poster child for conspiracy theorists! I don't have any idea if Essent put up cameras, etc. but any reading of the WSJ---that would be the Wall Street Journal for those of you in Rio Linda as your hero Rush Limbaugh would say......would suggest that companies do that all the time..... Why? to try and protect their franchises from numb nuts like you.If Essent wasn't the highest bidder, why did they win? Sue Christus for violating their fiduciary responsibility? Why bitch and moan about Essent not being the highest bidder and then say it is all about money? If it were all about money wouldn't Christus have gone with the highest bidder? Dufus? If Essent had sold Crossroads earlier you would have slammed them for that,,,,,so it is damned if they did and damned if they didn't. Face it, Frankster you are a low life loser in Paris jacking off as you manage this web site. I am a non Essent employee but think you are worth fucking with now......let's meet somewhere at an appointed time and place in Paris (or Dallas) or any point in between.....be a man you litttle chickenshit coward. As I write this you are probably jacking off to some child porn web site.....Frankster.....your little butthole has to be tightening just a weeeeeee little bit as the lawsuit proceeds......Where are all of your little ball-sey posters? You are a classic Paris big dick......all hat and no cattle.
(Anonymous) 7/28/07



Frank, unless I missed it, you chose not to publish my message RE the fact that right, wrong or indifferent, you may win a jury trial, but the financial cost and emotional stress you would encounter in pursuing such a course of action would be extremely high. Extremely.

You may have a different opinion from what I am about to say, but you need to take a couple of deep breaths and at least think about it.

Despite what you feel about Hud Connery and the Essent management team, you fail to realize that Essent has two very large institutional investors in the company. These firms have put literally tens, if not hundreds, of millions into Essent. Paris is the flagship.

Now put yourself in their shoes for a moment. If you thought a blog such as the one you created was negatively impacting the value of the investment, would you not, with every resource imaginable available to you, try and find out who was behind this?

My "word on the street" is at least two law firms have been engaged, one in New York and one in Washington, to leave no stone unturned in trying to find out who is behind this. This really has very little to do with Hud and his team. This has to do with major institutional investors--pension funds, insurance companies, etc that have invested in Essent's capital sources. Word is they are not happy and are advised by some very high powered law firms that libel has occurred on mulitple occasions as has at least one HIPAA violation. They are not used to having to deal with a lawyer buddy from Paris who may advise you that you are "OK". They rely on much more authoritative sources than "HIPAA blogs".

I will only tell you again (as I did in the message you decided not to post) that the continuation of this thing can only make matters financially worse for you if it plays out like I think it well may.

There is much speculation that discussions may be taking place with the Suddenlink (I think that is there name) to reveal certain information. I say this without the tone of a threat, but I fear it is getting really dicey, really fast.





Honestly, whatever damage you have wanted to inflict, message you have wanted to deliver or point you wanted to make, has been made. You really have much more to lose by keeping inflicting damage on yourself.

You really don't need to publish this either. I really am not interested in the back and forth bitching and moaning and gossip mongering. I am interested in this case because of the very compelling issues it raises from a legal perspective----first amendment rights, libel, etc.





I don't know how to contact you personally, but if you just send some sort of notice in a fac_p said type blog post that would give some indication, I would be interested in following up with you.
(Anonymous) 7/19/07
RE: your comment about sitting on a posting filled with four letter words that challenged you to come out.....(Maybe with the lawsuit you will be "outted" in a second way :)

I find it interesting that you sit on postings you don't like or don't agree with. As for your problem with four letter words, I guess that is worse than posting comments that fuel racism/religious discrimination which you were pretty good at some time ago.

Come on little fellow, be a man and post everything. While you're at it, you and others that have challenged the board's integrity should try standing face to face with one unnamed ex football coach, be a man and accuse him of being "on the take"? Probably the best thing that would come out that for you is you may then become eligible for long term disability after you recovered from making such a false acusation.

Come on Frank....come out, come out wherever you are. It is only a matter of time. Is the sphincter tightening just a little? You might want to pull a Scooter Libby and have all of your little buddies establish your legal defense fund! How do you spell "chilling effect"?
As to a legal defense fund, I just might…but what I may do is just add the advertising that most blogs have…and have it go directly to the lawyer. When retaining him, I was told by other lawyers that he was the smartest lawyer in town. Since Essent is apparently using a couple additional law firms, guess I need that.