They are no longer just looking at the heart hospital but moving the whole shabang to the north campus. They finally realize the logistics and the PR of the community [needs] a new fresh start.
According to the Essent, they're going ahead with the heart hospital...and possibly a new facility at the north campus location. Where is this influx of cash coming from? Probably the investors, who realize that unless they fund this properly, the whole ball of wax might melt. (Besides, no offers to buy.)
My question is will they actually try to get input from the people who will have to work there to make it a user friendly building or will they just go ahead and plow on thru with no clue to what a hospital is really for??
So, what should they consider when building this medical Mecca?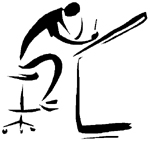 Functional proximity, for one thing. Room size, equipment staging and storage areas, and planning for future technology/expansion (what hospital hasn't had to expand?) HIPPA requirements (avoiding the viewing of patient records at nursing stations). Flexible tasking of rooms and floors (being able to ramp up acuity levels as needed with appropriate plumbing [O2, suction, and monitoring] in place.)
Possibly even on-floor waiting areas, which while adding to the cost, are less costly per square foot than patient areas, and can be designed with an eye towards that inevitable expansion (if they are in it for the long term.)
Let's do it right, this time. Just please: Not another naming contest!